Q2 2023 Alchemy Search Market Update - Finance & Tax
17 Jul, 2023
5 mins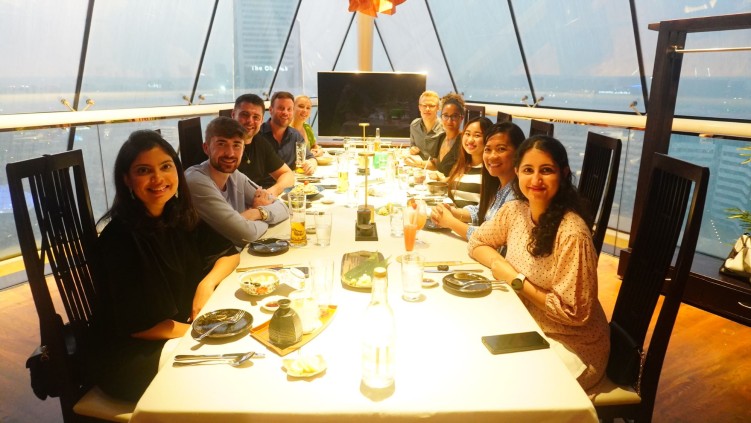 👨‍🔬 I would like to share an article on how I I felt Q2 went from a finance & tax recruitment standpoint and what lies ahead for Q3.👳‍♂️
In this article I will aim to provide an honest insight into what happened in Q2 from a finance & tax recruitment perspective and what I believe may happen in Q3.
To give an overview of what I will cover in this review, you will find:
Alchemy market update - Finance & Tax
What industries were hiring
Abu Dhabi update
Outlook for Q3
Alchemy market update - Finance & Tax

Thanks be to god that Q2 was a lot more of a positive quarter revenue wise for Alchemy than Q1. I was nearly updating my cv so I could apply for a few Head of Credit Control roles! As some of my beloved clients have had the pleasure of me chasing them for invoices in the last few months, I see myself as a top tier candidate in that space if anyone is looking to hire....
On a serious note, there was a good uptake in business activity when compared to Q1 which was refreshing to see. As anticipated the holy month of Ramadan (22nd March - 20th April) really slowed down the market for us but as you will see from the data below the market bounced back in May which actually turned out to be our best ever month to date, which was fantastic for the business considering Q1 just gone was our worst quarter to date. It shows the ups and downs of the UAE job market.
There was definitely a bit of a hiring spree in Q2 but it really depends on where you are sat in the market that you may have felt this. As there is a big difference in job activity if you are a:
Senior Accountant
Financial Controller
Chief Financial Officer
I have taken some data from our CRM to give some tangible insight into how the team have seen this in H1 from a job flow perspective.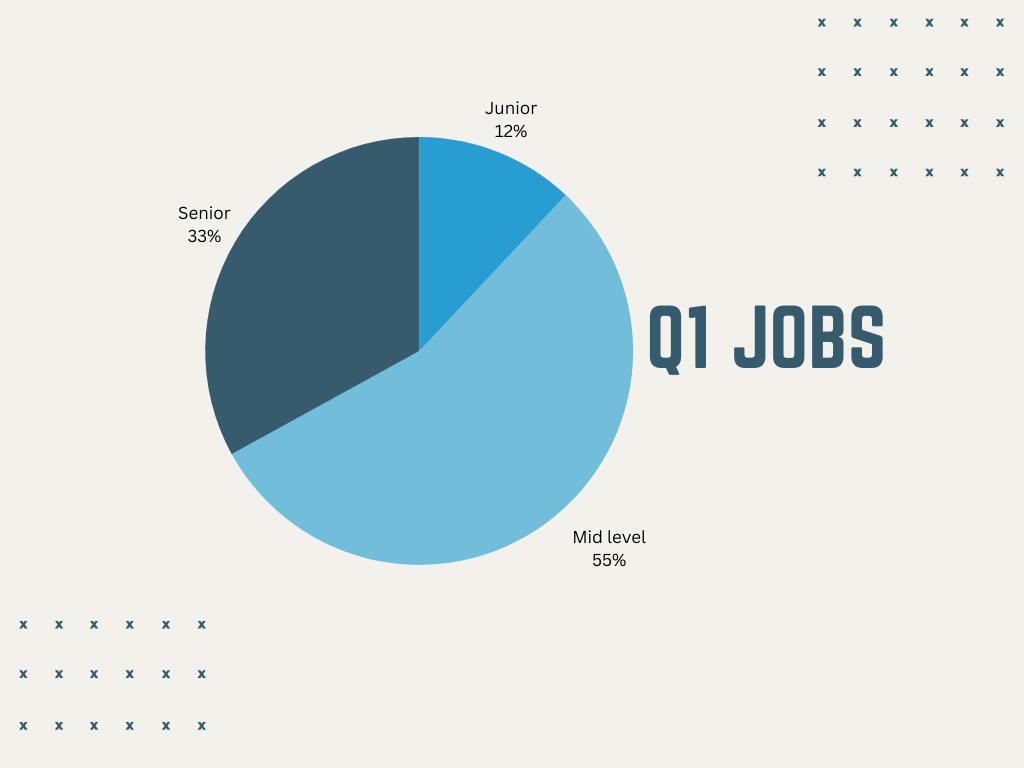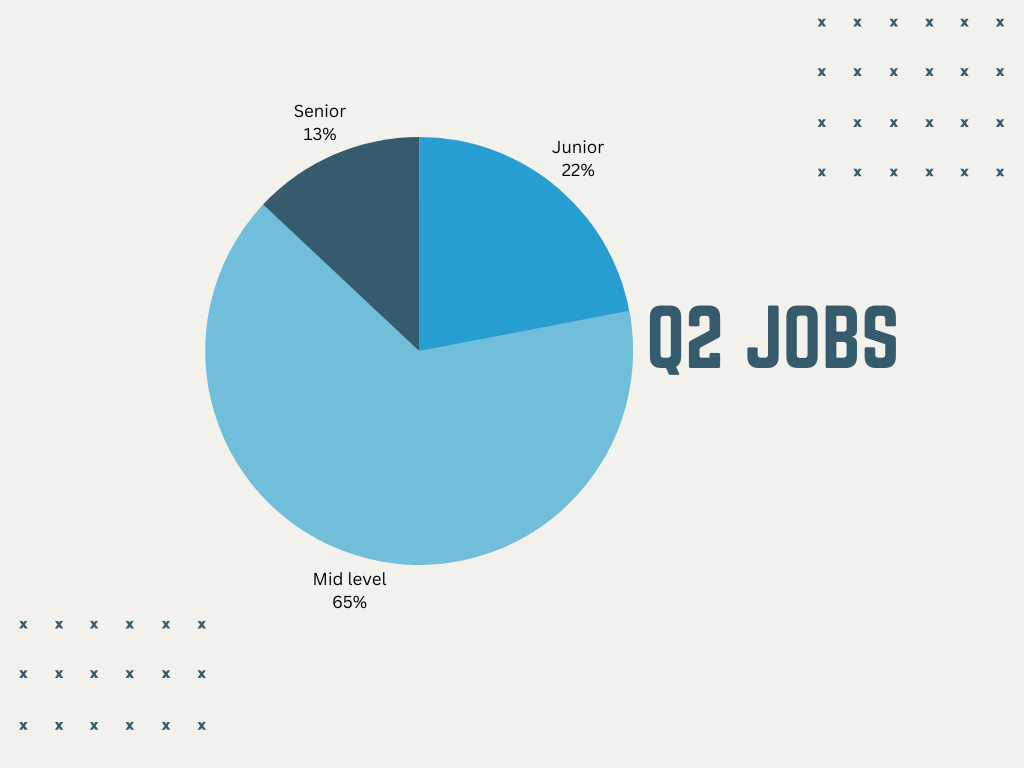 As you can see from the above graphs we as a business would be fairly strongly geared towards mid level hiring.
Junior Level - This would be from AP/AR roles up to newly qualified like Senior Accountant and Finance Analyst. Here are a few reasons for the movement at this level:
A lot of this hiring is usually done at the start of the year and processes are usually quicker so to see a drop in this level of hiring in Q2 is not overly surprising.
I would be confident junior level hiring will pick up at the end of August as there will be a lot of newly qualified candidates relocating to UAE looking for work. They're very attractive for companies as they usually have just come from working in a mature market, they're immediately available and most importantly there is no chance of a "buy back" from their previous employer.
Mid Level - would be anything from Finance/FP&A Manager up to Group Financial Controller level. We have seen a steady flow of roles coming in over the quarter at this level. Reasons for the slight uplift in job flow:
There is always a lot movement at this level so roles will constantly open up. We are seeing more and more finance functions trying to upskill their team with more commercially minded finance professionals. This was reflected in the Q2 hiring. As Q2 is usually when a lot of company bonuses get paid out, active candidates will wait to be paid their bonus before officially resigning which adds to more movement in the market.
Senior Level - This would be geared towards the hiring of Finance Directors and Chief Financial officers. Q2 for us seen a significant contraction of Senior Level hiring. Main reasons I think are:
As a business we are still fairly heavily reliant on our job flow to come from Dubai which hasn't been very buoyant at this level when you compare it to KSA where there is a lot of senior hiring.
I feel as we keep gaining traction in Abu Dhabi we will get more and more senior roles. But only time will tell.
From what I have seen from speaking with senior level candidates in the last few months is that they would only consider a move if all the boxes they desire were ticked. Which in turn means there's not a lot movement in the market as senior level candidates are happy to stay put and have job security.
For tax professionals, the market is very buoyant if you want to work in the consultancy space. As there has been a lot of hiring within the Big 4 but from what Rutika on our team has noted there has been significant hiring done by the Mid Tier consultancies within the UAE & KSA.
The fight for talent at mid level in particular has really caught the eye. Unfortunately for the consultancies that have long hiring processes and are not willing to pay market rate salaries they have lost out on some good talent. There was definitely a strong uptake on demand for Arabic speaking tax professionals in UAE & KSA.
Within the consultancies we seen a surge in demand for Transfer Pricing and Corporate Tax professionals from mid level up to senior level. There was a little bit of hiring in the Indirect Tax space.
For in-house tax professionals, we have seen a lot CFOs wanting to hire mid level tax professionals with a broad skill set mostly geared toward transfer pricing. I see this type of hiring becoming a lot more common for businesses with a regional presence. I feel it's still going to take a couple of more quarters for decision makers in companies to fully appreciate the need for having a in-house tax professional as with Corporate Tax implementation, tax planning is going to be crucial for businesses as this is not transactional tax like VAT which for the most part is a little easier to navigate through for businesses.
What industries were hiring
I have taken the stats from our system of every job we worked (not every job we placed) to give some real data of what industries were hiring the most this quarter and compared it to last quarter.
Across all of the roles we cover in commerce and industry these were the top 5 hiring industries: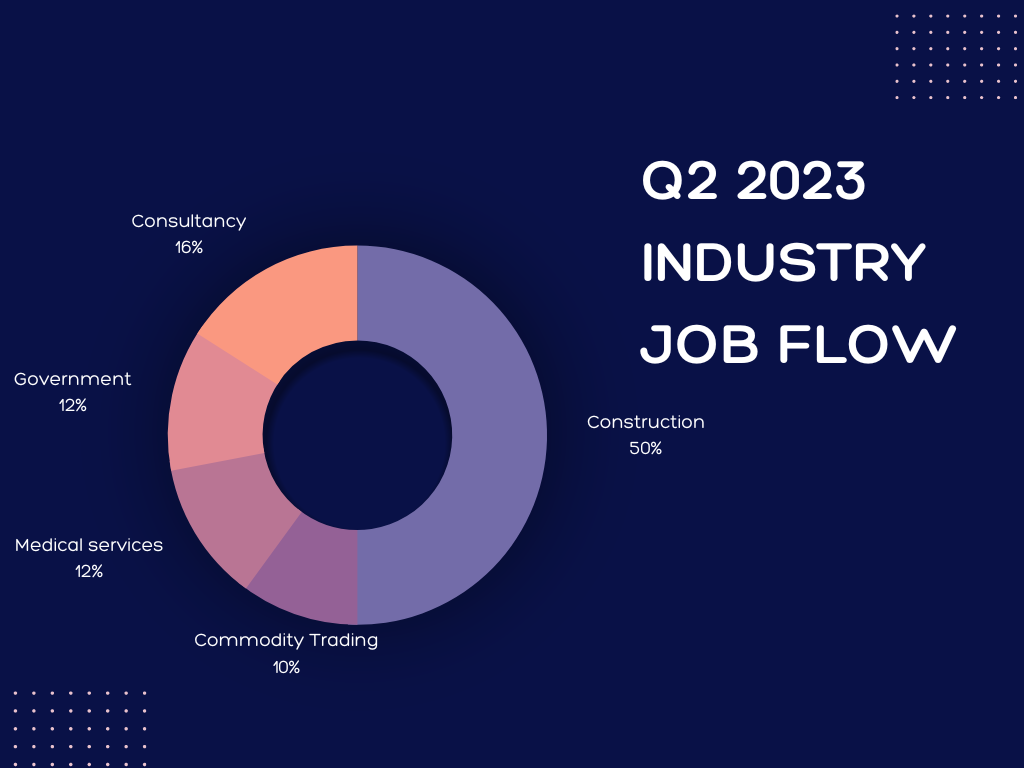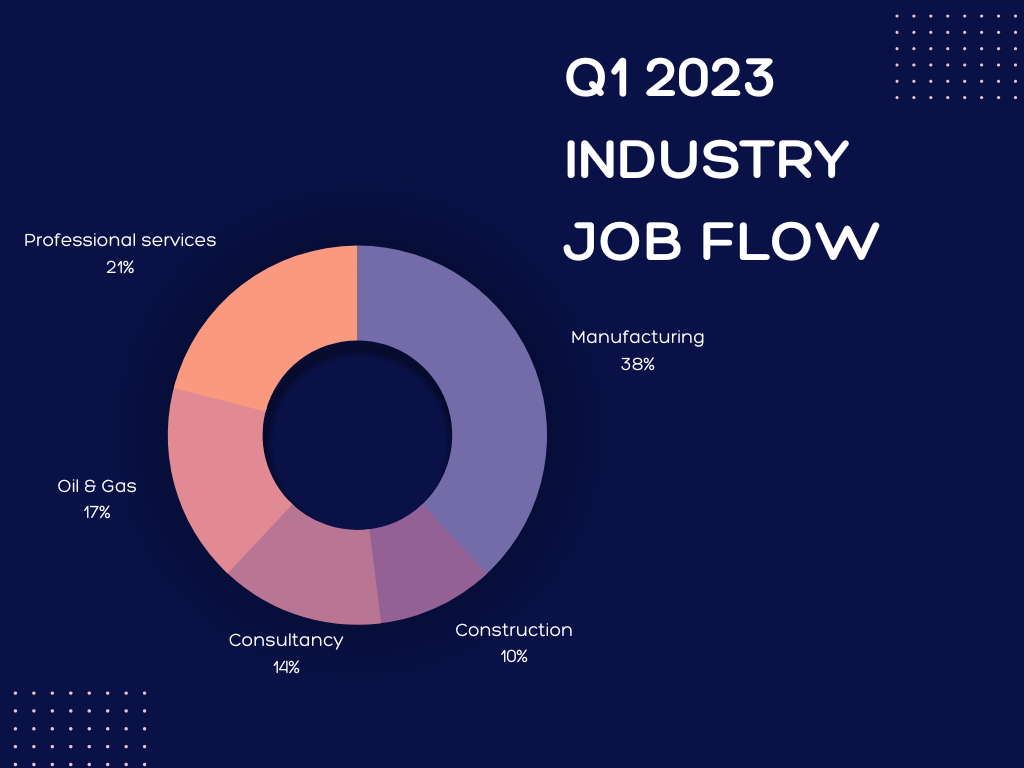 As you can see from the data above, Construction and Consultancy are the only two industries that are back to back Top 5 industries hiring for us. Construction has been growing steadily over the last 12 months from what we have seen. A lot of incoming CFOs have restructured their finance function and we have seen them add some heads across all levels.
Consultancy is always hiring no matter what time of the year it is. As there are constantly new entrants coming into the market they will lure candidates out of their competitors with more lucrative packages and fast tracking them to promotions in due course. It was interesting to see a lot movement in the commodity trading space as we noted a lot of new companies coming into the market on the back of outside investments. So it will be interesting to see if the space continues to grow.
Abu Dhabi update
Weam has been spending more and more time down in the nations capital. She has noted that there are a lot of Hedge Funds, Venture Debt and Venture Capital firms actively hiring in Abu Dhabi. Anyone who has lived in the UAE knows that Abu Dhabi hold the nations purse strings so access to capital, especially private credit, is becoming increasingly popular. There's a strong ecosystem being created and the environment for start ups is now well established.
The usual suspects will always be hiring (IHC, ADQ, Mubadala etc.) but with thousands of companies being created underneath these aren't the only ones hiring. This is a space to keep an eye if you are keen on roles in Abu Dhabi. More expats are now in Abu Dhabi than a few years ago. I noted in the last 6 months when catching up with some CFOs in my network that had always worked in Dubai that they have now taken roles in Abu Dhabi.
In general, packages are stronger down in Abu Dhabi especially if you have a big family with kids. As the schooling benefit is a lot more common down there than it is in Dubai. If you are open to exploring opportunities in Abu Dhabi then please connect with Weam for any finance roles and Rutika for any tax roles. As we will keep investing our time in growing our market share in Abu Dhabi.
Outlook for Q3
The summer months are usually seen as a good excuse for hiring managers to put recruitment on hold or wait until September when the kid are back to school which in turn means holidays are over get back and do some work!
I'm always an optimist and I forecast Q3 to be good overall if you are a Junior to Mid Level finance or tax professional. As we have had a decent level of WIP roll forward from Q2 and I know come mid August there will be a little bit of panic from hiring managers that they need to get their recruitment sorted before things get properly moving again in September.
For Senior Level professionals, it's no secret there is a lot of senior hiring happening in KSA but it still seems to be that most candidates we are speaking to have a preference to stay in the UAE. I do believe it's just a matter of time before Weam starts getting more and more traction for senior hires in Abu Dhabi so please keep an eye on her LinkedIn posts.
The wider team are noticing that there are more and more candidates looking to relocate here especially from India, Pakistan, Egypt, Lebanon, UK, Australia and Ireland. I know I sound like a broken record but without being on the ground it will make things quite tricky. As we have roughly 10/15 strong finance candidates on our books who are relocating here at the end of August as their partners are school teachers. They will always get an interview ahead of a similar candidate who is sat at their desk thousands of miles away on a 3 month notice. It's just the unfortunate truth of this market currently.
I hope you have found the article informative and helpful. Please stay connected with my team if you are looking for your next role and of course if you are looking to hire a finance or tax professional then don't hesitate to reach out to me on cmchugh@alchemyseach.ae