Q3 2023 Alchemy Search Market Update - Finance & Tax
10 Oct, 2023
50 mins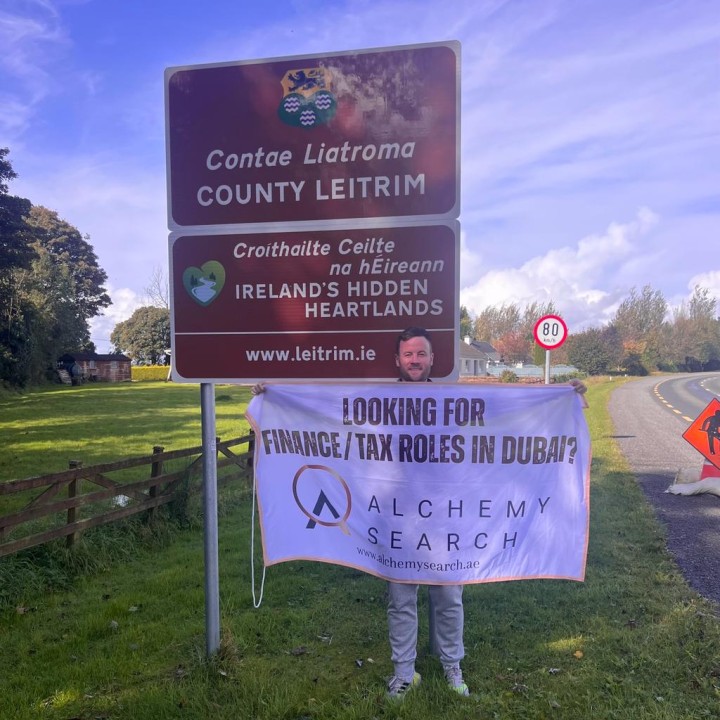 I was back home in Ireland last week and given we haven't had too many events over the summer months, I decided I would give my network a nice little tour of where I was, so even if you don't like my article hopefully you will like the snaps within it!

No better place to start than lovely Leitrim where they're known for producing Ireland's best accountants and winning a Connacht Championship in 94 but we want more!
I would like to share an article on how I I felt Q3 went from a finance & tax recruitment standpoint and what lies ahead for Q4.
Hopefully the article will help jobs seekers get a better feel for the current market trends and give them more confidence in their job search.
To give an overview of what I will cover in this review, you will find:
Alchemy market update - Finance & Tax
What industries were hiring
Abu Dhabi update
Podcast - listeners please ask questions or topics you would like us to discuss
Outlook for Q4
It's a beautiful wee country once it doesn't rain. Killiney Bay looking A1
Alchemy market update - Finance & Tax
Thankfully the dreaded summer quarter is out of the way! It can be a killer personally due to the hot weather conditions in the UAE and professionally as the vast majority of our clients take time off before the schools start back in September.
The team however were kept busy. Business activity started quite tough in July which ended up being our third worst month of the year but thankfully the business finished strong with September being the second best month of the year thus far.
As predicted the bent up demand from summer months exploded as hiring managers were all back at their desks come September 1st which meant processes became live and thankfully placements were made!
As I want to keep evolving these articles to add more value to the readers I have added some more real time stats which will give tangible insight that backs up my "theories".
So I believe a really good indicator of current market trends is how many first round interviews are happening. So we have got the stats for you based on Q3 2022 VS Q3 2023
So in September you can see a huge surge in interviews (2022 42% & 2023 47%).
I have also taken some data from our CRM to give some further insight into how the team have seen this in Q3 from a job flow perspective.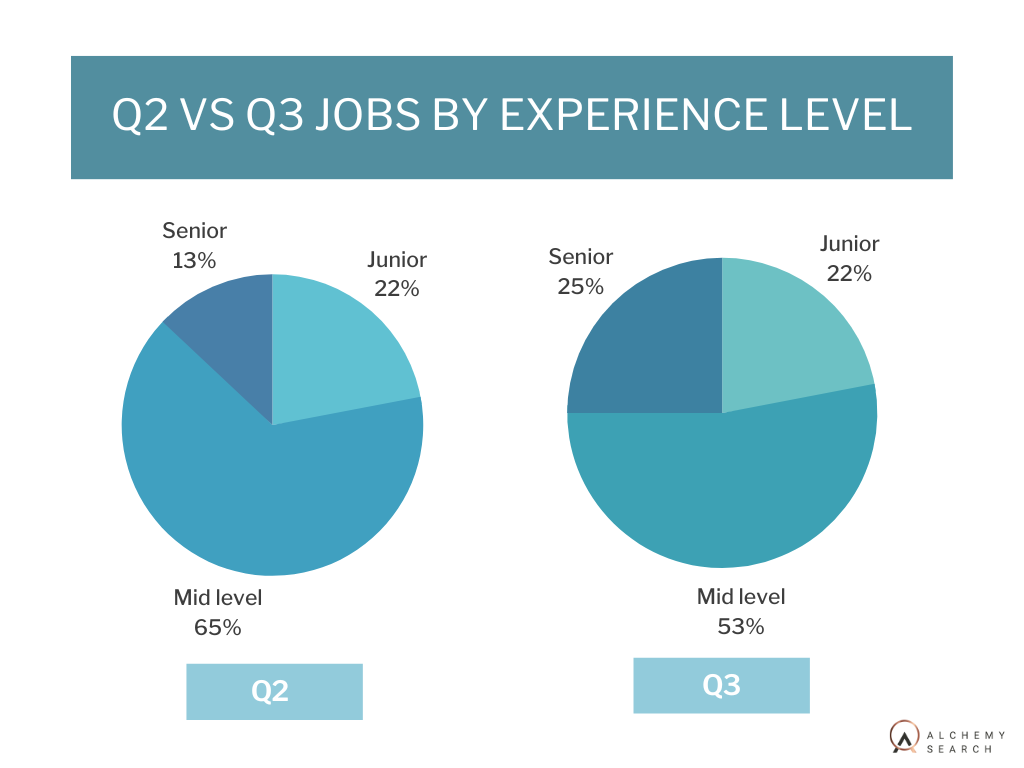 So in September you can see a huge surge in interviews (2022 42% & 2023 47%)
I have also taken some data from our CRM to give some further insight into how the team have seen this in Q3 from a job flow perspective
Consistent with last quarter we are heavily geared towards Mid Level recruitment. I don't anticipate this too change dramatically anytime soon.
Junior Level -This would be from AP/AR roles up to newly qualified like Senior Accountant, Finance Analyst and Tax Analyst. Here are a few reasons for activity levels staying the same as Q2 :
Every August there is a massive inflow of newly qualified candidates relocating here with their partners who are usually teachers in anticipation for the start of the school year.It's a great time for this level of candidate to move here as it coincides with all the hiring managers getting back to their desks post the summer break
In general these candidates have a huge advantage over candidates who are on a notice period given they are immediately available and there is no chance of a counter offer as they simply want a job, need a job, so will take a job!
Which makes them a lot more attractive to hiring managers as at this level the much sought after "Middle East Experience" usually doesn't apply.
Mid Level - would be anything from Tax Manager, Finance/FP&A Manager up to Group Financial Controller level. This is accounting for slightly more than half of all roles that we work.
As usual there was a good bit movement in this space again.
We noted a lot of newly created roles in finance functions which is refreshing to see as CFOs are getting more backing from the CEO to build out their respective finance functions.
Even with our current WIP in October it's heavily weighted towards mid - level roles
Senior Level - This would be geared towards the hiring of Heads of Tax, Tax Directors, Finance Directors and Chief Financial Officers. Q3 for us saw a significant uplift of Senior Level hiring. Main reasons I think are:
Consultancies tended to hire at Senior level as we were mandated a few Tax Partner level roles for multiple consultancies
We also managed to a get a couple of CFO/FD level roles in KSA which pushed up our activity at this level
For the UAE, senior industry roles are still hard to come by. However I would anticipate some roles to come through as people sometimes relocate out of UAE in the new year, which would mean they would need to have just handed their notice in recently as they would most likely be on 3 months. So lets see if we get some good senior roles in!
The team has also noticed there has been a significant increase in demand for hiring in Shared Service Centres as we have been fortunate to have been assigned to a few projects in Dubai where there's been a high volume of hiring.
Jeff is leading these recruitment projects and noted the below points on it:
"As the economy picks back up following a tough few years, more and more new businesses are opening in Dubai.
Naturally, a lot of these new businesses do not have a dedicated accounts team in place within the organization.
We have seen a significant increase in hiring in Shared Service Centres as most new start-ups now will outsource their accounting functions.
There is huge demand now for junior-mid level bookkeepers, especially those that have previous experience managing a portfolio of 30-40 clients in a previous role.
This industry is only going to continue to grow over the next few years, so candidates with similar experience will be regularly sought after, as many companies are starting to offer outsourced accounting services in tandem with business set-up services."
Tax recruitment really picked up over the summer months with Rutika being a busy little bee. She is now delighted that Pooja has returned to give her a hand post her maternity leave.
Rutika has shared the below to give you a feel for her thoughts on the tax recruitment landscape:
"While the first half of the year was mainly focused on Consulting roles, we have seen a massive increase in in-house tax roles as we stepped into the second half of the year.
Businesses are suddenly hitting the panic button and are looking at hiring tax professionals who are immediately available or with a shorter notice period. This could pose a challenge as most of the consultancies follow a 3 month notice period in the UAE.
While hiring in-house tax professionals the preference is mainly for Transfer Pricing specialists at mid-senior level, and regional experience is a huge plus.
Businesses which are looking at hiring in-house tax professionals must plan in advance and move swiftly through the interview processes, as tax is a fast-moving market and there is a war for talent.
Towards the end of Q2 and early Q3, a number of tax startups have mushroomed, making the market highly competitive."
Padel Tennis has finally made it to my local area! Great set up at the Fitzpatrick Castle Hotel in Killiney. God bless the work Scotty!
What industries were hiring
I have taken the stats from our system of every job we worked (not every job we placed) to give some real data of what industries were hiring the most this quarter and compared it to last quarter.
Across all of the roles we cover in commerce and industry these were the top 5 hiring industries: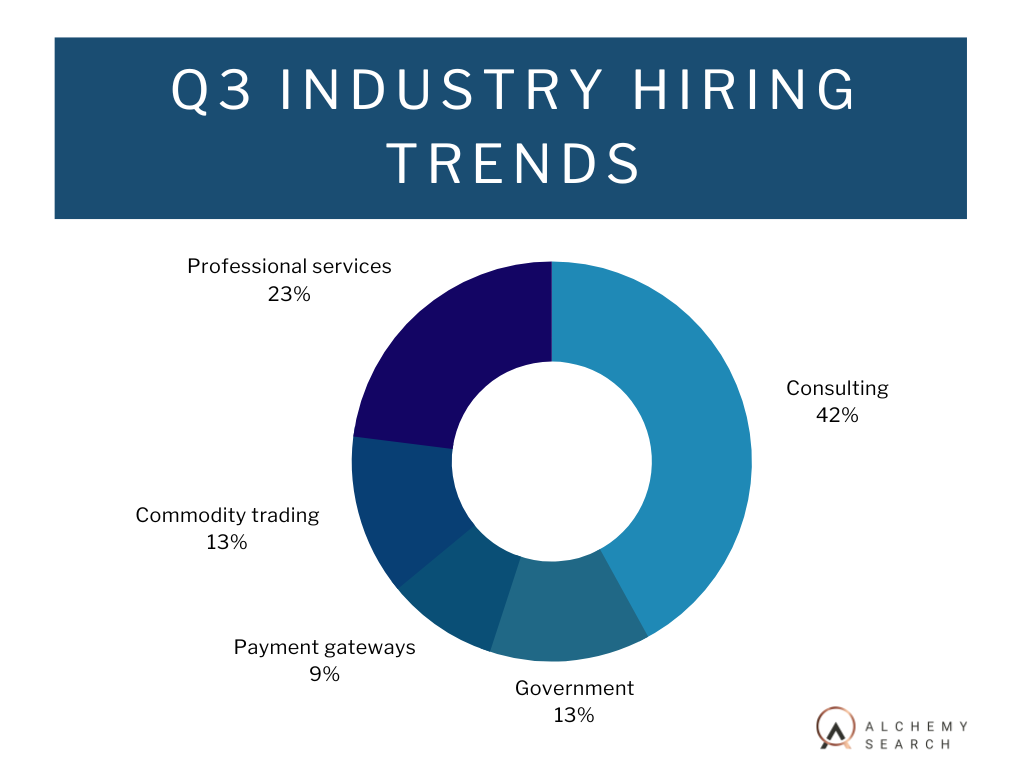 Consulting made it's way back into pole position from a hiring perspective and this is not overly surprising. As a lot of our industry clients travel and take time off during the summer period there is no rest for the wicked as we noted a lot of the consulting firms were hiring over the summer months to gear up for tail end of the year, more importantly 2024.
Restructuring and Corporate Tax were the main teams that we seen bolster up. We anticipate hiring to ease of a little coming into Q4.
Professional services nearly accounted for a quarter of all our roles. This is been led by a lot hiring in law firms in particular. We have had a surge in requests for strong Arabic speakers to join JV Law firms in KSA. Also adding to that we have seen a lot of hiring done for Shared Service Centres. This will continue going into Q4.
Honorable mention for the commodity trading space which continues to see more new market entrants.
Most importantly getting to spend time with Mammy & Daddy
Abu Dhabi update
Abu Dhabi is still motoring along from a recruitment point of view. Our lady on the ground Weam is still doing a couple of days down there each week meeting candidates and evolving relationships with clients.
Now that schools are back and holidays over she expects there to be a significant increase in recruitment activity.
Weam has shared the below commentary of what she has noticed over last few months:
"Abu Dhabi has seen a lot of recent activity due to the merge of Reem Island into the ADGM making it one of the largest financial centres globally.
With that, there are 50 Hedge Funds looking to set up in the ADGM which will attract talent, new businesses and also create more employment.
The ADGM is one of the fastest growing financial centres, having only been created in 2013 with currently more than 75$ billion assets under management.
What does this mean for Abu Dhabi?
There will be a huge demand for talent to come into the capital city which will include finance/accounting and tax professionals.
Compliance, regulatory, internal audit and risk will be at the top of the agenda to ensure companies are being regulated.
The access to private credit will increase giving SMEs and Start-Ups the ability to scale up with capital being available to them through different streams.
Industries that are currently performing well in Abu Dhabi and have seen a huge recruitment demand are:
Financial Services (non-banking),
Medical/Health Care
Technology
Energy
Construction.
If you are interested in looking for a role in Abu Dhabi as a finance professional please connect with Weam & if you are a tax professional please connect with Rutika or Pooja.
I didn't really factor in wind conditions when planning my Irish marketing campaign here up at Lough Erne golf course in Fermanagh
Podcast - listeners please ask questions or topics you would like us to discuss
Since the launch of the Alchemy Uncensored podcast last month the feedback has been positive thus far. We really hope that listeners are getting value from it and our intention is to have a very diverse guest list so we can add value too all our network.
All episodes are now complete up until the new year and we hope to start recording the next wave of episodes next month which will get us through Q1.
We will be releasing an episode at the end of the month where we will have 5 of the Alchemy team discussing the quarter just gone via the podcast but we also want it to be an opportunity to engage with out listeners and get the team to answer general questions and discuss topics which may be of interest to our network.
Questions can be from a job seekers point of view or a hiring manager.
So please feel free to directly message me the questions or even comment on this article with your question and we will aim to cover it next week when we record the episode.
Please subscribe to our podcast via Spotify, Apple Podcast & Youtube so you will be kept up to date with our latest episodes.
Dalkey Harbour
Outlook for Q4
Where has the year gone!
As we move into the last quarter of the year when I look into my crystal ball I think/hope we will have a strong finish to the year. As for us as a business this year has been all about building, thankfully not rebuilding as the team now need little handholding. So I'm confident Alchemy will grow in turn which will lead to more new clients and please god more roles for jobseekers.
I do feel in the next 3 months there will be more active candidates on the market who are currently working in jobs in the UAE. The reason for this:
There were so many finance & tax professionals who secured work in 2022
Now that 1 year + has passed it also means the honeymoon period for a lot of these roles has also passed
Employees will see if what was promised to them at interview/offer stage has or will actually materialize
For the employees who may have been sold the dream but got something different they will naturally be more open to new opportunities than maybe they were in the first 6 months of the role
What this means is there will be a nice game of musical chairs where there will be movement in the market at all levels. As usually when someone leaves the company will need to get a replacement. Enter the recruiter.....
I hope you have found the article informative and helpful. Please stay connected with my team if you are looking for your next role and of course if you are looking to hire a finance or tax professional then don't hesitate to reach out to me on cmchugh@alchemyseach.ae